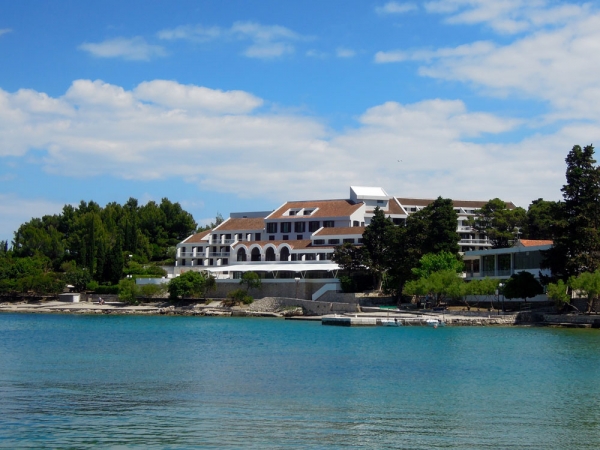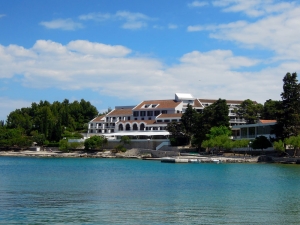 We felt very fortunate to be staying at Hotel Liburna – it was one of the most modern hotels on Korcula, in a great location, a short walk to the Old Town and with lovely views.
On arrival by car, we followed signs to Hotel Liburna and arrived at the back of the hotel where there was a carpark.
The hotel looked new, and checking in at Reception, we were told it had only opened to guests about 10 days prior, after being totally renovated.
We booked into Room 424. As we entered, the bathroom was on the left with wardrobes opposite then a double bedroom with windows and doors opening onto a balcony from where we had views to the Old Town. There were shutters on the window and the door for privacy if needed.
It was a very comfortable room with bedside tables, reading lights, coffee table and chair, luggage rack, a long desk with mirror above, and another full-length mirror on the wall. There was a mini-bar, small safe in the wardrobe, air-conditioning, plenty of lights. Wifi was free.
Downstairs from Reception, and looking across the water to the Old Town, there was a restaurant and a terrace. Breakfast was included in our room rate and it was a very pleasant way to start the day.
There was also a pool area at the front of the hotel.
At the time of our stay, there was still some work going on around the hotel, however we spent most of the day in the Old Town and it didn't bother us.
We can recommend Hotel Liburna – for the quality of the rooms, location and beautiful views. 
[pe2-gallery album="http://picasaweb.google.com/data/feed/base/user/104129372723891271851/albumid/6164228714627873825?alt=rss&hl=en_US&kind=photo" ]
AccommodationGuru.com
28 & 29 May 2015