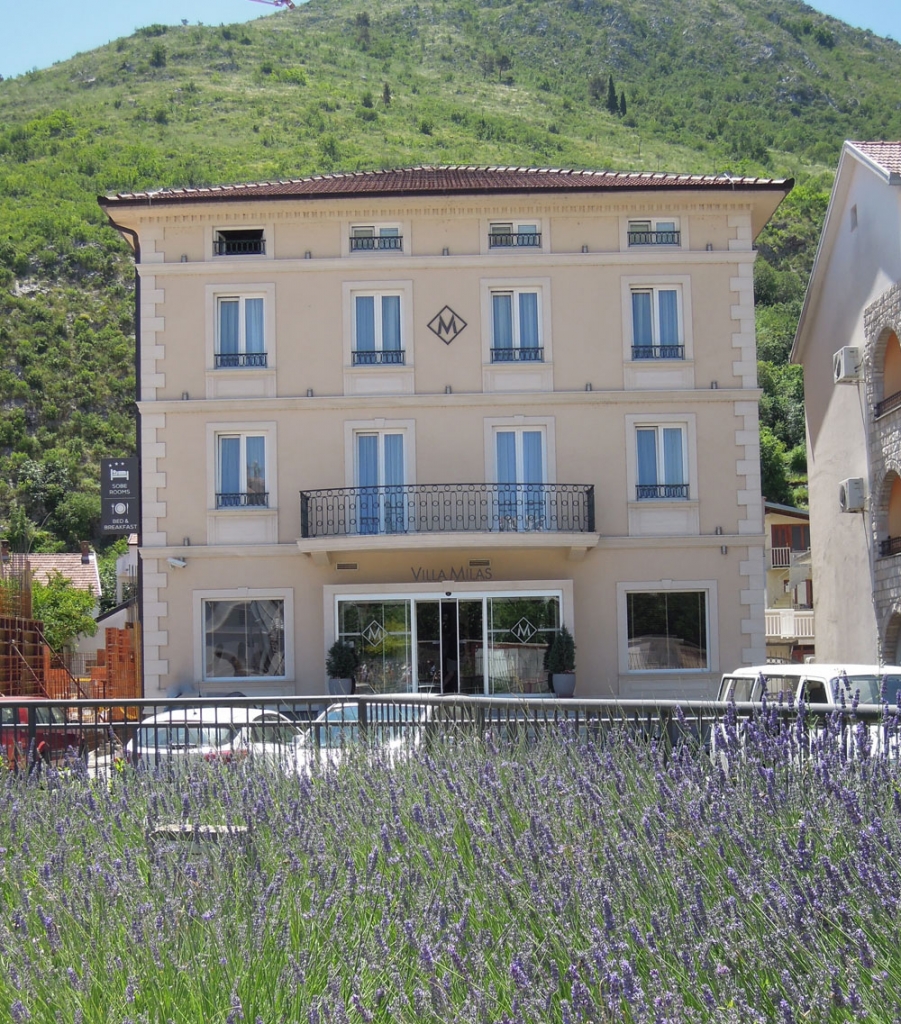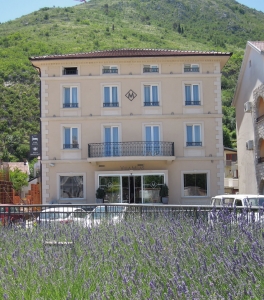 Hotel Villa Milas is a small, family run hotel of 16 rooms that opened last year – in May 2014. The location is excellent as it is only a few minutes walk from Mostar's Old Town.
On arrival we received a very warm welcome. It was a hot day – 34 degrees – and we were offered refreshing cool drinks – a choice of either pomegranate or elderflower. As we sipped our drinks the staff were most helpful with information about Mostar. They gave us maps and made suggestions of places to visit.
We took the lift to the second floor to our room – Room 204. It was a modern, spacious double room with bathroom. We had a desk; TV on the wall, bedside tables and lamps, laminated timber flooring, double-glazed windows, and most welcome was the air-conditioning unit.
The bathroom had a shower, toilet and basin with mirror above it. There was plenty of lighting, an extraction fan and a heated towel rail. Everything was spotlessly clean.
Our room was at the front of the building and overlooked a busy road. The hotel is virtually on the intersection of Bulevar and Franjevacka. The noise may be a problem for some people however with the window closed we could not hear the traffic. Alternatively there are quieter rooms on the other side of the hallway, at the back of the building.
An excellent breakfast was included in our room rate and was served in a lovely dining room downstairs.
We stayed only one night in Mostar. On the day of departure, we were able to leave our cars in the hotel carpark while we spent the morning in the Old Town. We returned to the hotel, were able to use the bathroom, collect the car and leave for Sarajevo – all very convenient.
We can highly recommend Hotel Villa Milas. The hotel is modern, comfortable and clean, with well -appointed rooms. The location is very convenient, the staff kind and helpful, and the breakfast excellent. There is also plenty of parking in front of the hotel.
[pe2-gallery album="http://picasaweb.google.com/data/feed/base/user/104129372723891271851/albumid/6164563988936864065?alt=rss&hl=en_US&kind=photo" ]
AccommodationGuru.com
2 June 2015