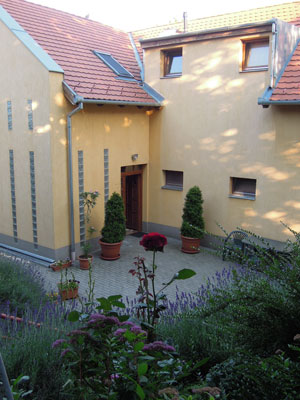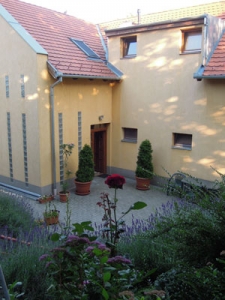 Centrum Apartments is very conveniently located, a short walk from Pecs historical centre. It is very attractive and feels like a guest house with lovely gardens, secure off-street parking and friendly staff.
We booked into Room 4, a very spacious room with large bedroom and bathroom. It was a room for three people with one queen bed and one single bed.
In one corner of the room was a very well equipped kitchenette that included a microwave, fridge, two hotplates, washing up basin, electric kettle, cups, mugs, glasses, cutlery, saucepans, kettle for stovetop, bowls, plates, chopping board, paper towels and washing up detergent.
There was a small table with three chairs, a TV, wardrobe with mirror, a luggage stand, plus a desk and chair in one corner. Air conditioning was also included.
The bathroom included a shower, plenty of towels plus hand-washing liquid and a hairdryer.
Our accommodation included a very good breakfast in the breakfast room – bacon, eggs, cold meats, cheeses, fruits, bread rolls, toast, cereals, yogurt, tea and coffee.
We can highly recommend Centrum Apartments – clean, spacious accommodation in a convenient location.
[pe2-gallery album="http://picasaweb.google.com/data/feed/base/user/104129372723891271851/albumid/6249080475842367089?alt=rss&hl=en_US&kind=photo" ]
AccommodationGuru.com
5 June 2015