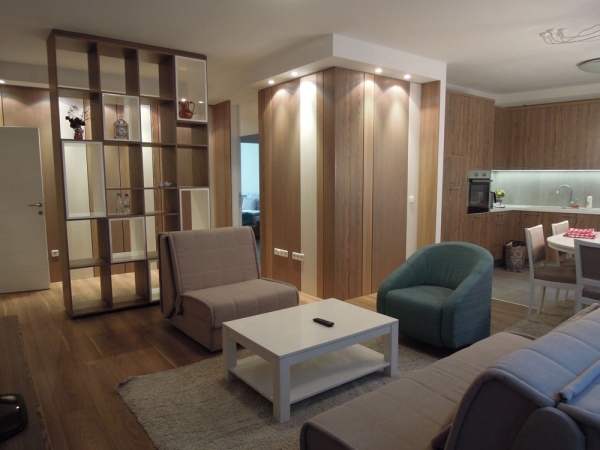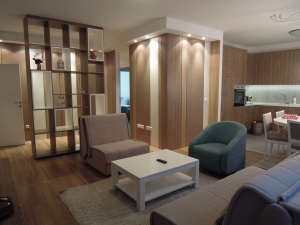 This apartment building is brand-new and just a short walk across the river to Sarajevo's city centre and the Old Town – about a 15-minute walk. We can highly recommend a stay – the apartments are modern, clean, comfortable and very conveniently located. There is also a lift.
Apartment 1
Our apartment had a large open-plan living area with lounge, coffee table, TV, dining table with six chairs and a well-stocked kitchen – full oven, hot plate, large refrigerator, microwave, kettle, crockery, cutlery, glasses, pots and pans.
There was one double bedroom (had side tables and built in wardrobe) and near that was a full bathroom with shower, toilet, bidet and basin. Along the hall there was a second bedroom with two sets of bunk beds plus a small bathroom opposite (toilet and basin only). There was also an ironing board in the apartment.
The apartment was air-conditioned but for those that like fresh air, the windows open in the bedrooms and living room.
Apartment 4
Apartment 4, on the same floor as Apartment 1, was a light and airy two-bedroom apartment.
There was a large open-plan living area with sofa, coffee table, TV, a couple of single chairs, a smaller coffee table and a dining table.
The kitchen was a galley-style kitchen and was well equipped (a dishwasher still to be fitted).
The main bedroom was a double bedroom with a large bathroom. The bathroom had a washing machine but it was still to be connected at the time of our stay – an indication as to how new these apartments are!
The second bedroom had a set of bunk beds and a sofa bed. There was a small bathroom with basin and toilet near the second bedroom.
Location
This apartment building was very hard to find. It is located on a very small street called Adila Grebe, which runs off Skenderija (a one way street running parallel to the river). A nearby landmark that may assist is the Hotel Residence Inn by Marriott – a couple hundred metres away. Adila Grebe did not appear on our GPS and we would recommend printing a map from Google Maps showing the location of the apartments, prior to your trip.
Before your arrival, it is necessary to contact Apartments Sarajevo Skenderija to let them know your expected arrival time so that there is someone waiting to meet you.
Parking
The apartment building had a secure underground car park with remote control roller door, entered via Adila Grebe. At the time of our stay there was a small fee per day for car-parking. We didn't use our cars while in Sarajevo as we took an organised tour, and were able to walk to places of interest.
Self-catering/Eating Out
If self-catering, there is a grocery store just around the corner from the apartments (near the corner of Soukbunar and Skenderija).
For a good restaurant nearby, we can recommend Konoba Luka Sarajevo located at Obala Maka Dizdara 8, a small street a couple of minutes walk from the apartments. It is very popular and it may be wise to book.
[pe2-gallery album="http://picasaweb.google.com/data/feed/base/user/104129372723891271851/albumid/6166031286352382849?alt=rss&hl=en_US&kind=photo" ]
AccommodationGuru.com
3 & 4 June 2015