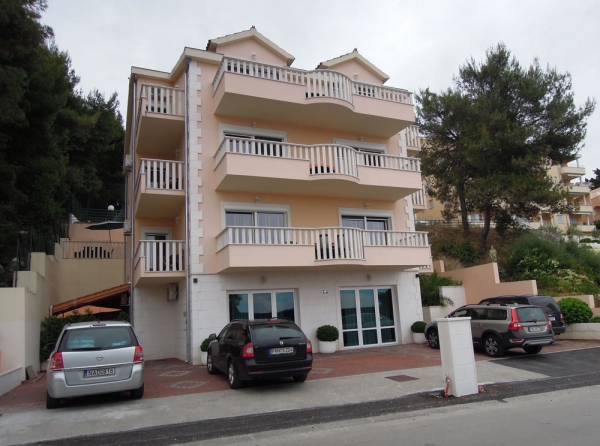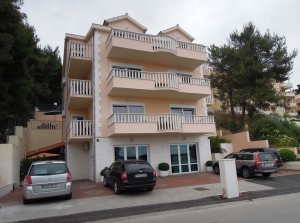 On arrival at the Villa Queen Apartments, we were greeted by Jelena – a wonderful host – enthusiastic and helpful. The apartments are located on the large island of Ciove, a few minute's drive from the Old Town Trogir.
We had Apartment 9 on the top floor. It was a spacious two-bedroom apartment with large, open-plan living/dining/kitchen area with doors onto a front balcony and wonderful views.
The full size kitchen was very well equipped with an oven, microwave, cooktop, fridge and coffee maker.
In the living room there was a large cream leather sofa plus a brown leather sofa bed, flat screen TV, split system air-conditioner.
The main bedroom had a large bed, huge walk-in type wardrobe, bedside tables, TV and small balcony overlooking the sea.
The second bedroom was a bit smaller with a queen bed, bedside tables and wardrobe.
The bathroom was a good size with big basin and a very unusual shower. The shower was a cubicle with touchpad that gave us radio, telephone, lights, exhaust fan, foot massager and back massager (there was a fold-down seat to sit on while having foot and back massage)!
Off-street parking was available in front of the apartments.
Breakfast was included and was such a feast – cereal, fruit, cheese and cold meat, French toast, pancakes, bread, spreads, coffee, tea and juice. The table was laden and looked so colourful. It was the best breakfast on our trip!
Jelena recommended T.r.s. Konoba in the Old Town of Trogir for dinner and gave us a lift in that evening (we caught a taxi home). Walking home via the road would have been a fairly long, uphill walk, however Jelena showed us a shortcut, which would have taken about 10 minutes if we had walked.
We can highly recommend Villa Queen Apartments – Croatian hospitality at its best.
[pe2-gallery album="http://picasaweb.google.com/data/feed/base/user/104129372723891271851/albumid/6163034488371924753?alt=rss&hl=en_US&kind=photo" ]
AccommodationGuru.com
24 May 2015