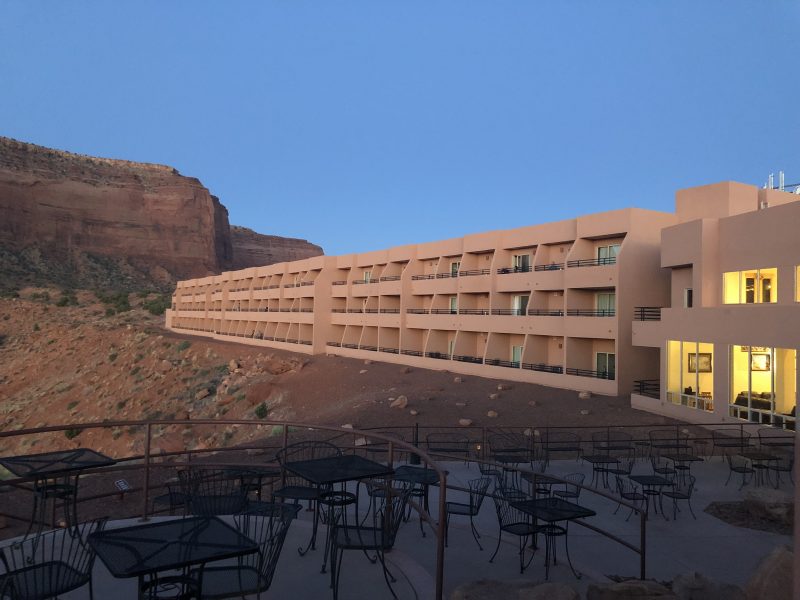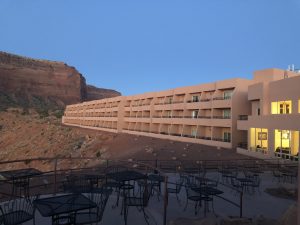 The View Hotel is the only hotel located within Monument Valley Tribal Park and is designed to have minimal visual impact on the surrounding beauty of the Valley. Although three levels, the building fits well into the landscape.
The hotel sits right beside the Visitor Information Centre and is very close to the beginning of Valley Road – the scenic road of 17 miles (about 27kms) through the main sites of Monument Valley.
The reception foyer is impressive with high ceilings. The hotel features beautiful hanging rugs and artwork of the local people.
At one end of the hotel is the restaurant, large gift shop and terraces overlooking the valley.
Photos of View Hotel, Monument Valley
Room 128
We have Room 128, located on the ground floor and like most rooms, has a beautiful view of Monument Valley.
It is a large room, spotlessly clean, and features:
Two queen beds – very comfortable bed
Slim desk and chair with mirror above it
Furniture unit with luggage bench, small bar fridge and microwave, three drawers, a TV, and a safe
Standard lamp near desk
Attractive indigenous artwork of local area
Hanging space with luggage rack
A sliding glass door leads onto the balcony with a beautiful view of valley. There is attractive metal outdoor furniture – small table and four chairs – on the balcony. Unfortunately there is no screen to keep insects and wildlife out of our room at night, so we kept the glass door closed.
We had excellent wifi in the room.
Bathroom
Lovely big bathroom – feels luxurious.
Big vanity and basin, shower over bath, toilet – all in one room.
Airconditioner
The room had a very noisy air conditioner – it was big unit built into our room that blew hot air onto the balcony. It had a thermostat and repeatedly switched on and off. It was lovely and quiet when it was off but then came on with a roar!
Restaurant
The restaurant has large windows overlooking the valley and it's a lovely place to have a meal. Meals are large portions and although not outstanding, are very good. Breakfast is a buffet set up and very nice. We can't believe how cheap the meals are – buffet breakfast for two is US$20.90 and dinner for two (2 main courses and a drink) – around US$32.00.
The staff are exceptionally nice.
Visitor Centre
The Visitor Centre is right next door to the hotel and has a display of the local indigenous people.
If you want to do a tour of the Valley, you cannot book at Reception or the Visitor Centre – there is a booth in the carpark in front of the Visitor Centre and all vehicles are lined up there. When enquiring about a tour, we are given a list of tour operators and advised to look at Tripadvisor for recommendations.
Book The View Hotel, Monument Valley
AccommodationGuru.com
9 June 2018