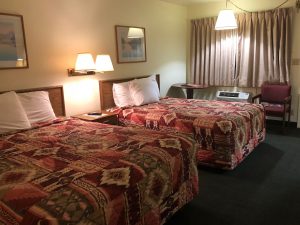 We arrived late at The Virginia Motel after a big day of sightseeing, but received a warm welcome from the owner.
We were able to park in the motel car park – just in front of our room – Room 115 – on the ground level.
Photos of The Virginian Motel, Moab
Room 115
We had a spacious room that included:
Two double beds
Bedside table and lamps on the wall
Desk with chair and chest of drawer with TV on top
Small round table and chair
Hanging space and luggage holder
Kitchenette with an upright stove (cooktop and oven), kitchen sink and good-sized refrigerator. We did not use the kitchenette but if we wanted to then cutlery, crockery, etc was available from reception.
Bathroom sink was next to the kitchenette
Air-conditioning unit controlled from within the room
Windows that open for fresh air
The bathroom was off the kitchen and had a shower over the bath, and a toilet. We were provided with plenty of towels, and toiletries were supplied.
Good Location
The Virginia Motel has an excellent location just off the main street of Moab – within close walking distance to shops and restaurants. In fact, across the road is the wonderful Moab Diner where we had a delicious dinner and breakfast in a classic American diner.
The town of Moab is a perfect base for exploring Arches National Park, Canyonland and Dead Horse Point State Park.
Virginia Motel – Highly Recommended
As the Virginia Motel is an older-style motel over two levels, facilities and decor are not modern however the property is clean, comfortable, very well positioned and good value for money.
Book The Virginian Motel, Moab
AccommodationGuru.com
6-7 June 2018