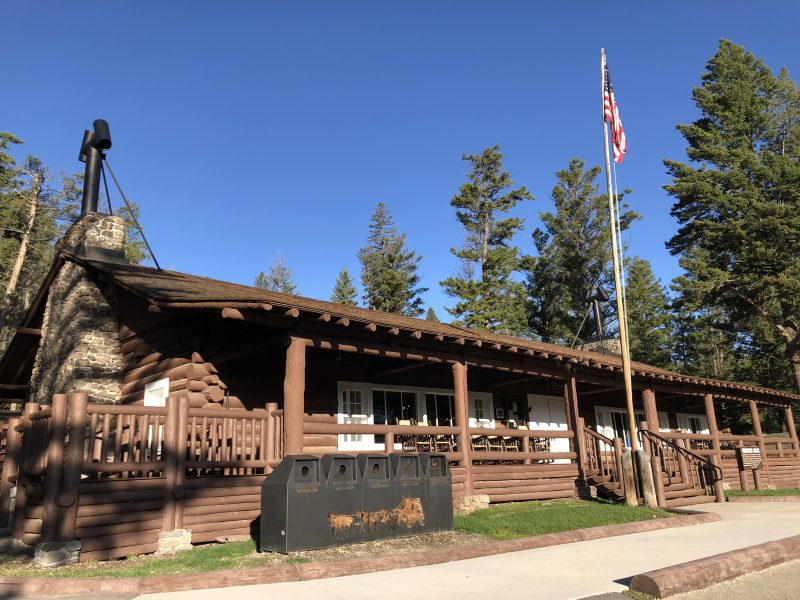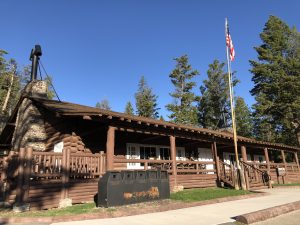 Roosevelt Lodge is located on the edge of the beautiful Lamar Valley in the northeast of Yellowstone National Park.
Our stay at Roosevelt Lodge was a wonderful experience.
On arrival we were warmly greeted at Reception, which is in the charming historic Roosevelt Lodge 'log cabin' building.
The Lodge building included the dining room, small bar and gift shop, plus informal lounge area in front of the fire. Accommodation is provided in small timber cabins among the trees, close to the Lodge.
Roosevelt Roughrider Cabin
Our accommodation was a very small timber cabin – number 65. The cabin was very charming – furnished with two double beds with bedside table and lamp between them, a small pot-belly heater (wood provided) and a small timber desk and chair. There were two small windows with insect screens that we were able to open. It was quite a mild evening so we did not need to light the fire for warmth.
We had booked share bathroom accommodation and the communal bathroom was nearby and very clean and well maintained.
Roosevelt Lodge Dining Room
Dinner, lunch and breakfast are served in the dining room.
Dinner was a wonderful experience. We ate at about 8.30pm after taking a drive on the Lamar Valley road to see the wildlife and enjoy the wonderful landscape. The sun only set at around 9.30pm and we had lovely views from our table of the snow capped mountains. The food was delicious and the service was friendly. We also had a delicious breakfast (a la carte) in the dining room next morning.
Old West Dinner Cookout
There is an option to enjoy an old-fashioned outdoor cookout dinner in Pleasant Valley – reached by taking a 45-minute wagon ride or 1-2 hour horse ride.
General Store
There is a Yellowstone General Store on site selling souvenirs, groceries, etc.
Lamar Valley
Don't miss the beautiful drive through the Lamar Valley! The road into the Lamar Valley is one of the most spectacular in the Park. We saw large herds of bison (mothers and calves), deer, coyote and bears.
Roosevelt Lodge – Highly Recommended
We would highly recommend a stay in the cabins at Roosevelt Lodge. It is a charming and historic place. The lodge is a simple log cabin with rocking chairs on the porch and beautiful views; the accommodation is in rustic cabins. We loved the small scale of Roosevelt Lodge – it was a special experience.
Accommodation in Yellowstone National Park is not cheap. Our cabin at Roosevelt was A$142 (share bathroom) however we loved the hospitality and rustic experience.
AccommodationGuru.com
2 June 2018