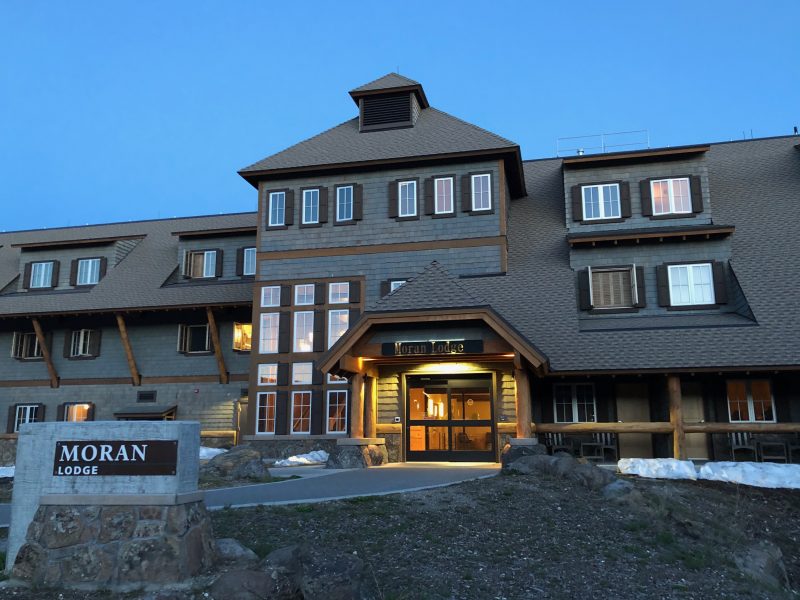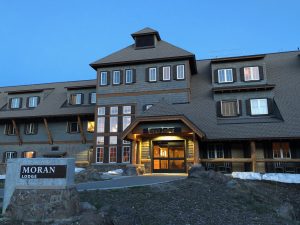 Canyon Lodge is a collection of several lodges and cabins in the centre of Yellowstone National Park. When booking, we mistakenly thought it was one lodge.
The Registration Office (i.e. Reception for check in) was located in Washburn Lodge. Check-in was an impersonal experience – we showed ID, left credit card details and received a key to our room plus map to find our lodge. We were allocated Room 4315 in Moran Lodge (one of seven accommodation lodges). We asked about meals and were told that the Dining Room was fully booked however we might get a cancellation. We were shown a map of where the dining precinct was – it was called Canyon Lodge.
We drove over to Canyon Lodge to see what our options were for dinner as it was 8pm when we checked in and we thought it best to have dinner before finding our room.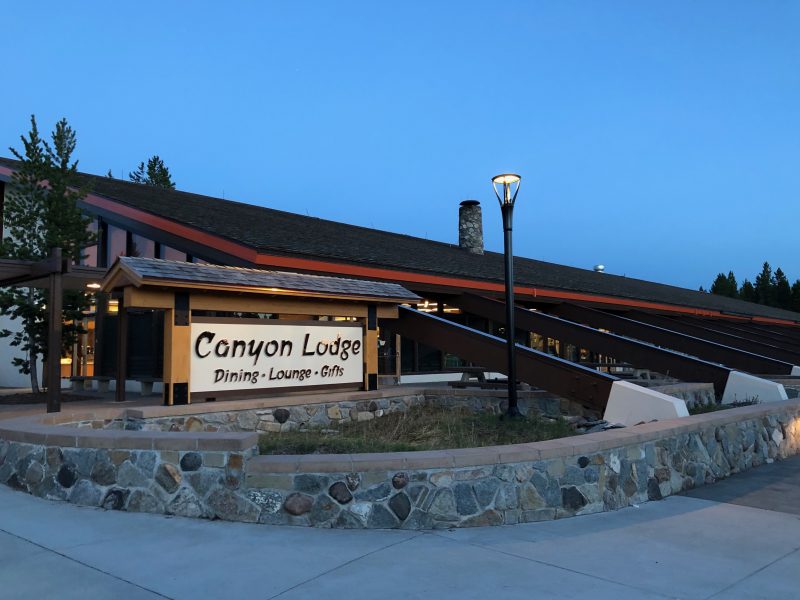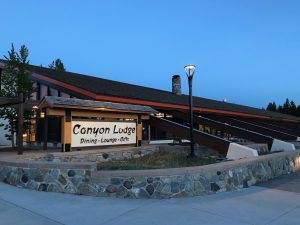 We found that Canyon Lodge was one long building containing about four take-away eateries – it was a cafeteria-style set up. The 'dining room' was a small area with a bar and tables at one end of the building.
The eating options were:
Slow Food Fast
Fresh Woks
Falls Café
Ice Creamery
M66 Bar & Grill (the dining room/restaurant)
We had a simple meal of rice, noodles and vegetables with hoisin sauce from Fresh Woks (they had run out of meat options). Despite the name, nothing was cooked in a wok!
We also had a cooked breakfast the following day at 'Slow Food Fast' and that was reasonably priced.
Moran Lodge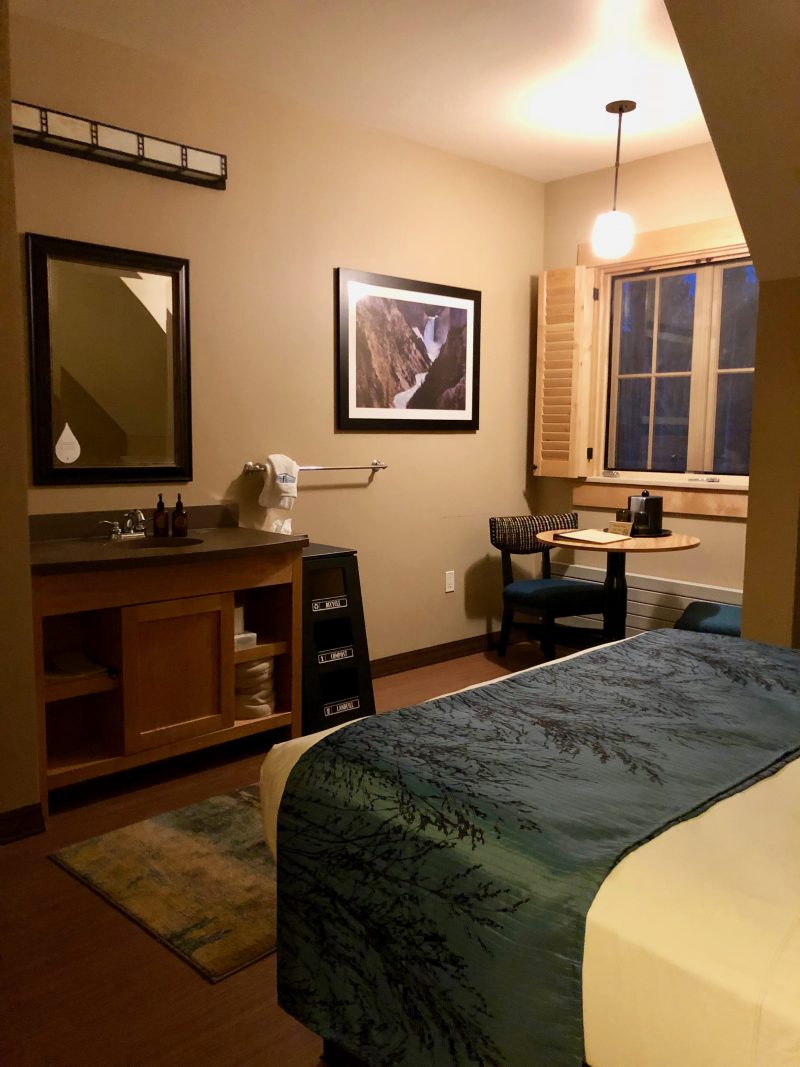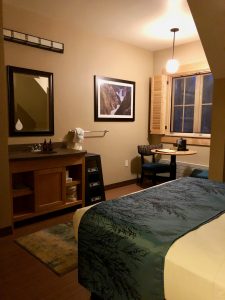 After our dinner we drove to Moran Lodge, and took the elevator to our Room – 4315. Strangely the signage/directions to rooms omitted room numbers 15, 16, 17, 18 and 19! However we found our room by finding room 14 and we were next door.
The room was simply but nicely furnished and included:
Queen bed and one bedside table and lamp
Small round table and two chairs
A basin in the bedroom with mirror above
Very small bathroom with a toilet and shower
Three hooks for our coats
Opening window with insect screens
There was no WIFI, mobile phone reception or television. 
Grand Canyon of Yellowstone
A highlight of staying at Canyon Lodge was its close proximity to the Grand Canyon of Yellowstone – a must see in the Park.
Canyon Lodge
We booked our accommodation on the Yellowstone National Park website. It is important to note that Canyon Lodge is not a single lodge building with a restaurant. Canyon Lodge accommodation is spread across a number of lodges with a town square of sorts nearby. We found the whole experience very impersonal especially after having stayed at Roosevelt Lodge the night before.
We paid A$281 for our Queen Room in Moran Lodge – which we felt was not good value for money, however the location within Yellowstone National Park suited our itinerary for sightseeing in the Park.
In hindsight, the better option would have been to stay at Old Faithful Inn (a beautiful 'log cabin' style hotel with a wonderful atmosphere), or in West Yellowstone township (just outside the park) where there are more options for accommodation and restaurants.
AccommodationGuru.com
3 June 2018