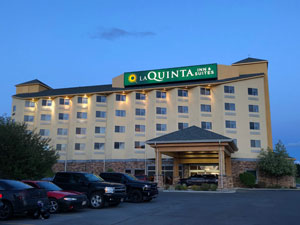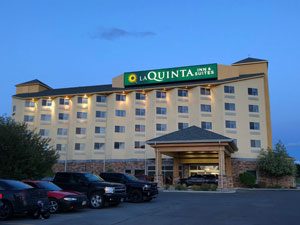 On a road trip from Seattle to Yellowstone National Park, we broke our trip in Butte, Montana for one night. Butte was a mining town from the 1860s to 1983 – best known for copper mining. It has an interesting historic district as well as the newer town – where most of the accommodation is located.
We arrived quite late in the evening to check in to La Quinta Inn & Suites and received a warm welcome at Reception.
La Quinta Inn & Suites is located in the newer area of town.
Room 320
We had Room 320 and took the lift up with our luggage. The room was very spacious and nicely decorated.
Room amenities included:
King bed and two bedside tables with lamps
An easy chair and ottoman
A desk and chair
A console that included a small bar fridge, microwave oven, coffee maker and TV
A full length mirror
Small wardrobe containing hangers, iron, ironing board and luggage rack
Opening window for fresh air
The bathroom was small with a basin, toilet and shower above the bath.
It was a very comfortable room with a view overlooking the Rocky Mountains.
Hotel Amenities included:
A hot tub on the ground floor
Parking available in the outdoor car park, free of charge
Breakfast – included in our rate
Casagranda Steakhouse in Butte
A short drive from La Quinta Inn was the fantastic Casagranda Steakhouse where we had a delicious dinner – highly recommended – don't miss it.
La Quinta Inn & Suites – Highly Recommended
We can highly recommend a stay at the La Quinta Inn & Suites – it is a clean, modern, comfortable hotel in a quiet location.
Photos of La Quinta Inn & Suites
AccommodationGuru.com
1 June 2018