Sweet Taormina Apartment has a wonderful location – right in the heart of beautiful Taormina – just off Corso Umberto, the main pedestrian street.
Sweet Taormina is an apartment over two levels with 2 bedrooms and a living room on the ground floor, and kitchen, dining, large terrace and sofa bed on the upper floor.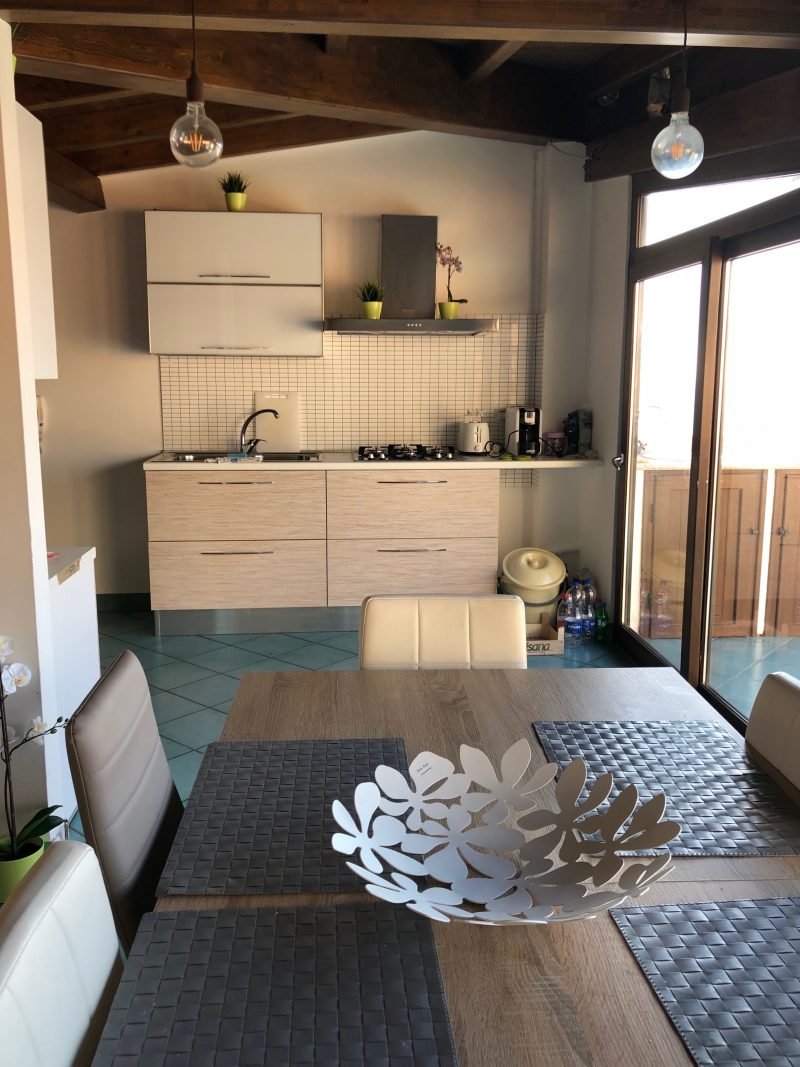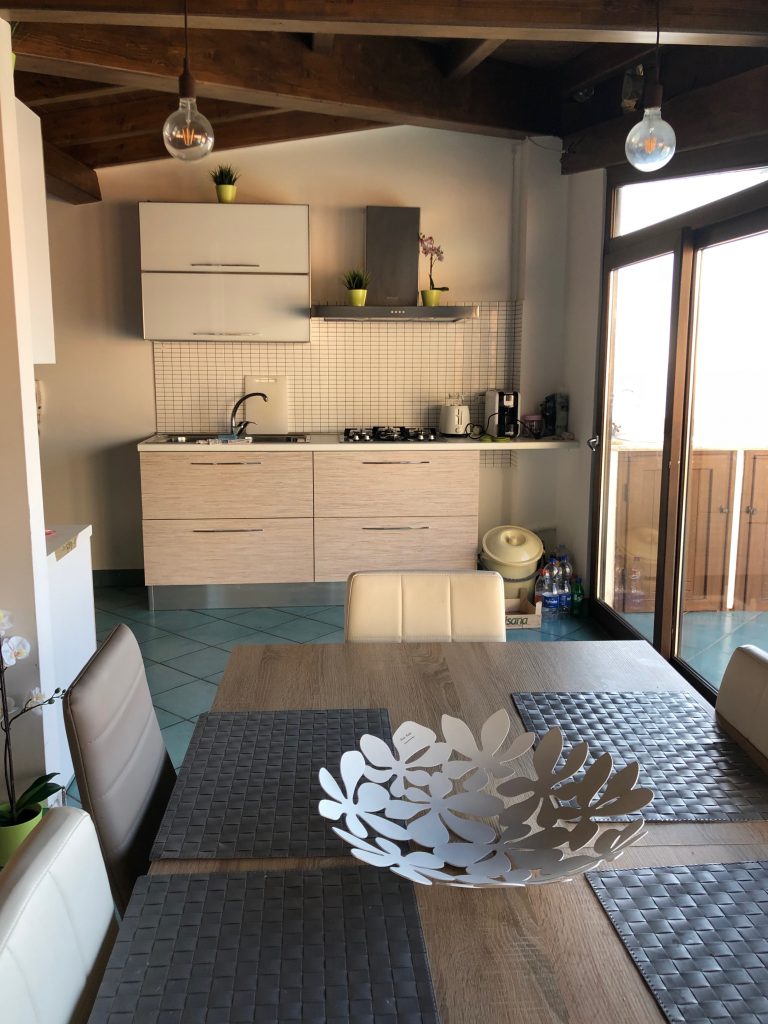 Bedrooms
The two bedrooms on the lower floor each have a double bed, bedside tables and a TV on the wall.
Ensuite Bathrooms
There is an ensuite bathroom off each of those bedrooms with shower, basin, toilet and bidet. Sachets of shampoo and shower gel are included but no soap for the hand basin.
Ground Floor Living Room
This room is sparsely furnished with just a modular sofa. The entrance to the apartment is into this room.
Kitchen/Dining – Upper Floor
The upper level of the apartment is a very pleasant space with glass doors leading onto a large terrace.
The kitchen is equipped with an oven, gas hotplate, refrigerator, coffee machine and toaster. There is no kettle. There is cutlery, glasses, crockery, pots and pans plus some supplies including olive oil, pasta, coffee, tea.
The dining table seats six.
Sofa Bed
The sofa bed is in an area adjacent to the dining table. It is a very comfortable sofa bed. With this space the apartment can sleep six people. There is no bathroom on the upper level so guests using the sofa bed have to use one of the ensuites downstairs.
Terrace
The terrace is a lovely large area with views of Mt Etna and the sea. It is particularly pleasant at sunset.
Parking
The nearest parking to the apartment is about a 10-minute walk away in the Catania Carpark, close to Porta Catania. For anyone with lots of luggage, it is not an easy walk. We walked along the beautiful Corso Umberto (the main pedestrian street of Taormina) to Piazza Nove Aprile, then up a flight of stairs near the Wunder Bar to reach Via Don Bosco. The apartment is located about 50 metres along Via Don Bosco.
Location
The apartment has a wonderful location – right in the heart of Taormina. It is in walking distance to all the sights in this beautiful city.
Sweet Taormina Apartment – Highly Recommended
We can highly recommend a stay at Sweet Taormina Apartment. This accommodation is clean, comfortable, spacious and has a fantastic location.
Photos of Sweet Taormina Apartment
AccommodationGuru.com
5-6 October 2018