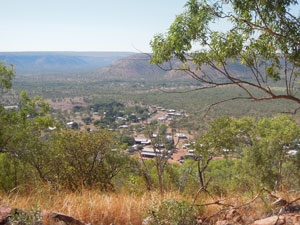 It is a beautiful drive of about 4 hours between Katherine and the tiny settlement of Timber Creek. It is a good place to break our trip on the way to Lake Argyle.
Wirib Tourism Park is a little oasis. We check in at the IGA with the friendly fellow at the front of the store, drive into the park and see lovely green, grassy campsites. We have a powered site.
There is clean ablution block, with a couple of basins in between that act as both laundry tubs and washing up basins – very basic – there is no camp kitchen. Water in the ablution block is connected to 'town' water. There is a clothesline out the side.
If you don't want to camp, there are motel units available.
There is a swimming pool at the front of the property.
The IGA is well stocked and you can even get an espresso coffee. Fuel is also available.
We stopped in Timber Creek to break our trip between Katherine and Lake Argyle and departed next morning well rested.
Photos of Wirib Tourism Park, Timber Creek
AccommodationGuru.com
3 June 2016