La Nicchia is a small bed and breakfast located on Via Mondello, a short walk to Via Savoia, the main street of San Vito lo Capo, and about 5 minutes walk from the beach.
On arrival we phoned the number given on the door and a charming lady called Paolo was there to greet us in moments. Paolo did not speak English however we used Google translate to communicate! Paolo gave us a map and recommended a few restaurants nearby.
Our group took three rooms – two on the ground floor and one on the first floor. Each room was named after a local landmark and we took Tonnara Del Secco.
Tonnara Del Secco
Our room – Tonnara Del Secco – on the first floor, was fresh and cheerful with a blue and white theme. French doors opened onto a little balcony that looked down into a small courtyard.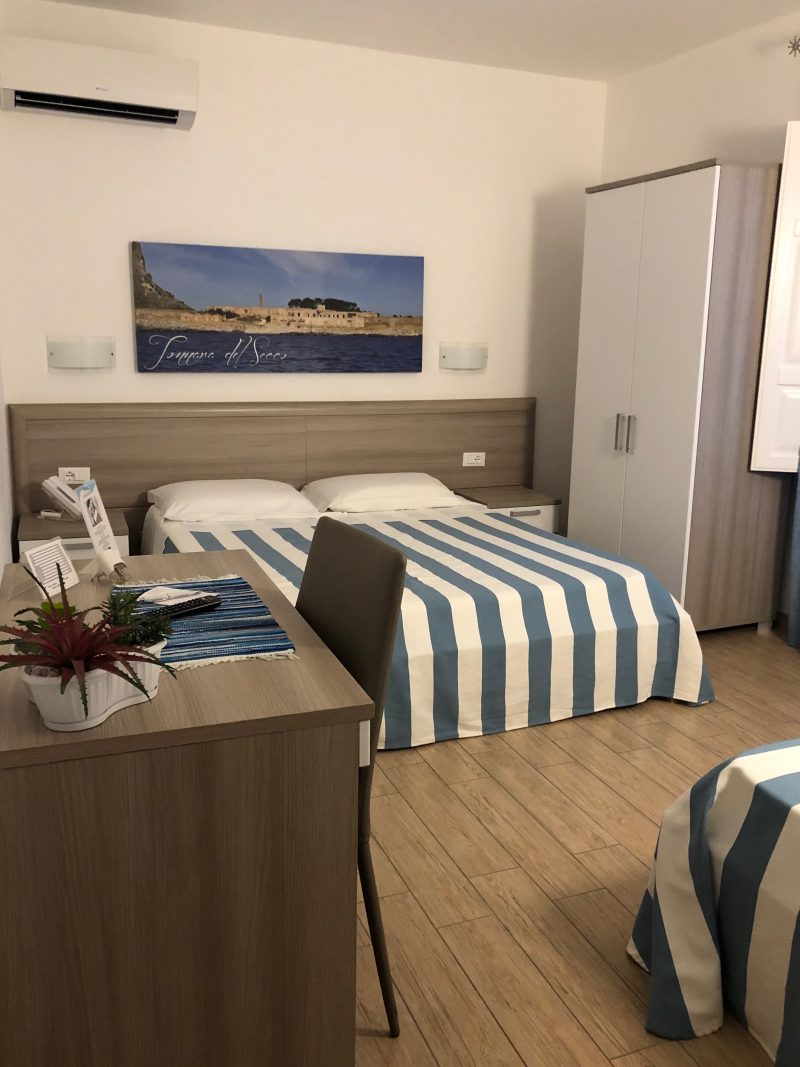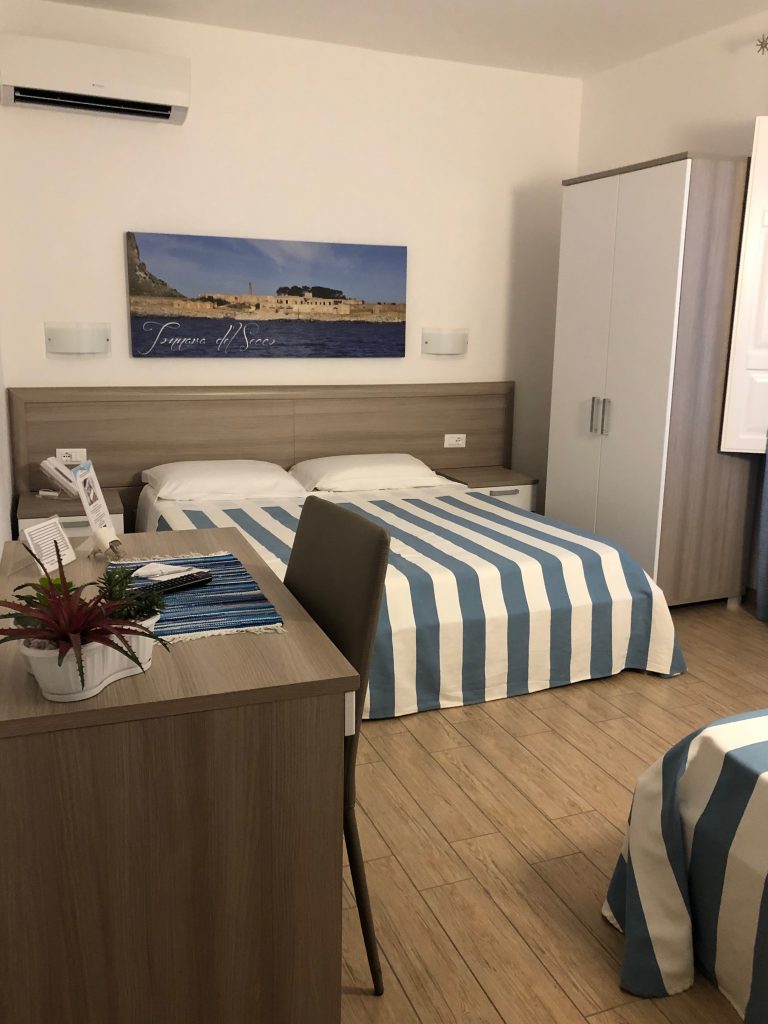 The room featured:
Queen bed and bedside tables with lamps on the wall
Single bed with small bedside table
A small desk with a cupboard on one side containing a very small bar fridge (mini bar).
Flat screen TV on wall
Small wardrobe
Small luggage rack for one bag
Split system air conditioner
Bathroom
The bathroom was small but well designed with basin, mirror, toilet and small shower with great water pressure and plenty of hot water. There was soap and a couple of shower caps supplied.
Breakfast
Breakfast was included in the price of the room and was served in the breakfast room downstairs and the courtyard. The breakfast was delicious and included cereal, juice, fruit, tea, coffee, pastries, tart, focaccia, cheese and cold meat.
Jacuzzi – Rooftop
There is a very nice rooftop area with sun lounges, umbrella, outdoor shower and Jacuzzi.
Wifi was very good.
We experienced a few mosquitoes in San Vito lo Capo, so repellant is a good idea.
Recommended Eateries in San Vito lo Capo
Agora
Blue Marine Café
Cambusa
La Nicchia – Highly Recommended
We can highly recommend a stay at La Nicchia – it was spotlessly clean, comfortable, quiet and conveniently located to the shopping street and the beach. Paola made us feel very welcome.
AccommodationGuru.com
11-12 October 2018