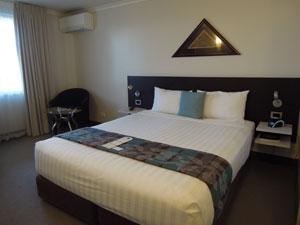 Jet Park Hotel is located about 5-10 minute's drive from Auckland Airport. It is a 4.5 star hotel that is reasonably priced, clean and comfortable.
This was a convenient hotel for us to stay at the beginning of our road trip around the North Island as it was close to the airport and to where we would pick up our rental van.
We flew from Sydney to Auckland and on arrival at Auckland Airport we used the courtesy phone at the I-Site shop to call the hotel to request a courtesy pick up.
We were in Room 202 on the second floor, directly above Reception. It was a little noisy as we could hear the comings and goings of guests in the driveway outside, however that could easily be resolved by requesting another room.
The room appeared to be freshly painted and carpeted and it was very clean. We liked that the window could be opened for fresh air. There was also a Mitsubishi Inverter air-conditioner in the room.
Our room featured a queen bed, desk, round table and 2 chairs, rack for luggage and a TV. There was a safe, mini bar, tea, coffee, kettle, cups, glasses, ironing board and iron, hairdryer, extra pillows and hanging space.
The bathroom was small but well designed and had a good shower.
On the ground floor of the hotel there is the Te Maroro Restaurant & Indaba Lounge Bar – both very attractive. There is also a gift shop with NZ and African art and gifts.
On the first floor there is a coin-op laundry with washing machine and dryers.
The hotel has large grounds with car parking available up to 14 days.
We took a taxi into the city in the evening. Be sure to ask at Reception about the special taxi rate – $35 cash fare to the city (the rate to the city would normally be double that).
Overall we can highly recommend the Jet Park Airport Hotel.