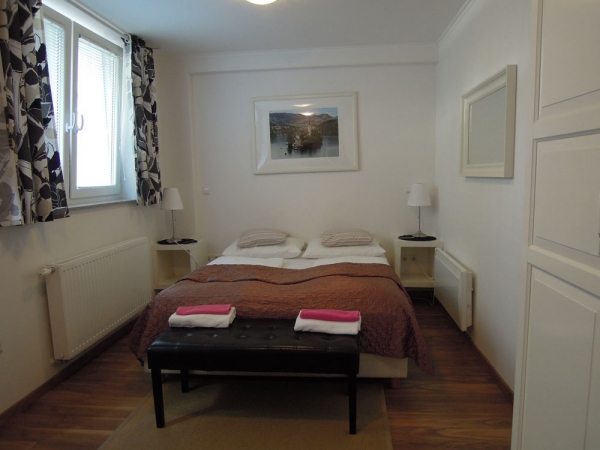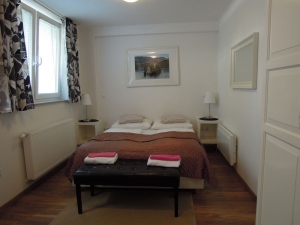 Bled Apartments provide clean, comfortable and spacious accommodation about 500m from the edge of Lake Bled.
We had Room 13, a one-bedroom apartment with separate kitchen and bathroom, located one level down from Reception. The room appeared to be newly renovated.
Although we were below street level, there was plenty of light from the large windows looking onto a small terrace at the back of the building.
The bedroom was very comfortable and well heated with panel heaters each side of the bed. Windows opened for fresh air. There was a small desk and two chairs in the bedroom, which would double as a dining table if we had self-catered. The bedroom also featured two bedside tables with lamps, a wardrobe, mirror on the wall and a flatscreen TV.
The kitchen was very well equipped with crockery, cutlery, dishwashing liquid, tea towel, two-burner cooktop and a good-sized fridge.
There was no washing machine in the apartment however a laundry service was provided for a small fee.
Bled Apartments is located on the main road into Lake Bled, opposite the Regional Tourist Information Centre. The multi-purpose centre has a modern, attractive interior and includes a café (open 8am – 6pm), small book/gift shop and changing exhibitions. There is also a small supermarket plus bar/restaurant opposite the apartments.
Being on the main road, there is some traffic noise so do request a room not facing the road if that is likely to disturb you.
Reception staff are very friendly and helpful.
If you don't mind climbing stairs, we found one of the best rooms was Room 43 on the top floor. It is a large, open-plan bedroom, living room and kitchen – sunny and breezy with views to Bled Castle.
Parking is provided free of charge in the front and back of the apartments.
[pe2-gallery album="http://picasaweb.google.com/data/feed/base/user/104129372723891271851/albumid/6163027114981362257?alt=rss&hl=en_US&kind=photo" ]
AccommodationGuru.com
19 & 20 May 2015