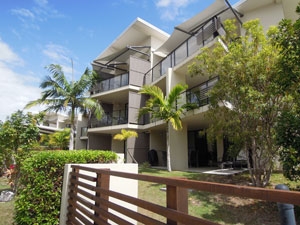 We arrived quite late at the Agnes Water Beach Club apartments and had to press the intercom at Reception to contact management. There was a quick and cheerful response, we collected the key, dropped our luggage and went off to have dinner nearby at The Tavern – one of the few places open at that time of night.
The Tavern serves very good pub food. We had the daily specials of rump steak/salad/chips for $15 and Chicken Schnitzel/salad/chips for $20 – excellent value for money.
Back at our accommodation, we were in Unit 2, a ground-floor, two-bedroom apartment, nice and close to the car park so not far to carry our luggage. It was a spacious apartment with a floating floor throughout, except in the bathrooms, which were tiled.
There was a kitchen/living area separated by a breakfast bar. The kitchen was fully equipped. There were two bar seats at the breakfast bar. The living room had a 2-seater sofa, single chair, coffee table, very large flat screen TV and a sound system. There was both a ceiling fan and air-conditioning system in the living room. Glass doors opened onto an outdoor patio where there was a round outdoor table with 4 chairs, two sun beds and a small BBQ.
The doors to each bedroom were off either side of the living room.
One bedroom had twin beds, bedside tables and lamps, a sofa and single chair, a console with TV and sound system, a large wardrobe with sliding doors, both ceiling fan and air-conditioning, and a rack for luggage.There was a good-sized bathroom with a shower over the bath. 
The other bedroom had a queen bed, bedside tables and lamps, both ceiling fan and air-conditioner, wardrobe with sliding doors, a small window and double sliding door out to the patio. The window and door each had a screen to keep the bugs out. Off this bedroom there was a large bathroom with shower over the bath. It also had an LG Washer & Dryer.
There were toiletries supplied in both bathrooms.
The apartment had some handy items included: in the kitchen, dishwashing liquid and dishwasher sachets were supplied; and there was also an iron and ironing board, broom, mop and bucket, and a clothes rack for drying clothes.
All in all, this apartment had everything we needed for a very comfortable stay. It was ideally located moments walk from Agnes Water Beach on one side, and one of the small shopping strips (IGA, newsagent, etc) on the other side. We can highly recommend this accommodation.