A very pleasant day trip from Melbourne is through to Geelong, Barwon Heads and Queenscliff.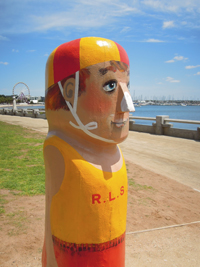 Geelong
Geelong is about one hour's drive from Melbourne and is the second largest city in Victoria.
We loved the Geelong Waterfront and in particular the Baywalk Bollards track along the shores of Port Phillip Bay. We did part of the walk from Steampacket Gardens to the Art Deco Eastern Beach sea baths, however, if you have time, we recommend doing the whole walk starting from Geelong Botanic Gardens to Ripppleside Park which takes about 1.5 – 2 hours.
Artist Jan Mitchell has created over 100 colourful painted, wooden bollards along the Baywalk track, depicting characters and events from throughout Geelong's history. Try to spot the rabbits painted on many of the sculptures – they represent rabbits introduced to Australia by an early English settler in the bay in the mid-1800s.
If time permits, the National Wool Museum and Geelong Art Gallery are also worth a visit.