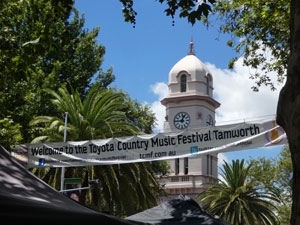 The headlines on the TCMF website say that the Tamworth Country Music Festival is "Australia's Largest Music Festival – 10 Days – 700 Artists – More Than 2800 Events".
We headed to Tamworth to find out what people have been raving about!
Tamworth is about a five-hour drive from Sydney – it's an easy drive passing through pretty countryside and charming towns – particularly Murrurundi and Willow Tree. In fact if you leave Sydney in the morning, the Willow Tree Inn is a great place to stop for lunch. Their award-winning Graze Restaurant and Bistro serves one of the best steaks you will ever have. Across the road is The Plains Pantry – another great place for good coffee, home baked meals, cakes and gourmet groceries.